Asus recently took top honors in a smartphone camera showdown, but the company is still pushing new grounds. An ultrasonic button technology from Sentons, and already implemented in an Asus phone, is poised to bring a virtual shutter button to smartphones next year.
With Sentons technology, smartphone manufacturers will be able to integrate nearly invisible buttons onto the sides of the device chassis making them even more svelt and seamless. The buttons can be used for an array of features like physical buttons on smartphones already do.
One example of this tech's current implementation is in the Asus ROG Phone 3, which uses what the company calls "Air Triggers" that are specifically tailored to playing games in landscape orientation. The reason Asus uses the technology is to make the phone smooth and without protrusions that can be seen as ugly on the sides of devices.
As demonstrated in this video, the tech is designed to work just as well as traditional physical buttons:
Sentons' technology works by using ultrasonic sensors under the frame that are a significant advancement over other solutions aiming to tackle the virtual button space.
In an interview with Andy Boxall of Digital Trends, Sam Sheng, Sentons' chief technology officer, explains why the technology is beneficial.
"We can use ultrasonics to turn any surface into a touch sensor. Carbon fiber, wood, pretty much any stiff material can turn into a touch sensor," Sheng said. "It's also the world's first touch sensor that simultaneously sees force and position at the same time, so we not only see the X and Y axis of your finger, but we see the Z-axis, too, which tells it how hard you're pushing."
Sentons wants to take the technology one step further with the introduction of the CameraBar, an ultrasonic bar that can be used to zoom in and out with a smartphone camera.
"It's about creating an intuitive and simple camera experience," Sheng told Digital Trends. "It can be a single or double solution [meaning a sensor could be placed at one or both ends of the chassis], so you can slide your finger to zoom, press down to focus lock, and press down harder to take the shot. In selfie camera mode, it turns into a 'squeeze' shutter."
It's easy to disregard the idea of Sentons' technology because of the poor implementation of similar ideas in other phones. The Huawei Mate 30 Pro, HTC U12+, and the "Active Edge" on the Google Pixel 3 all offer similar promises with underwhelming results. However, those who have experienced the Air Triggers on the Asus ROG will understand that what Sentons has done is actually unique and legitimately effective.
None of those other tech iterations use ultrasonics, so there are limitations. With Sentons' virtual buttons, the tech will work regardless of if your hands are wet, if you are wearing gloves, if the phone is in a case, or if the device is fully submerged underwater.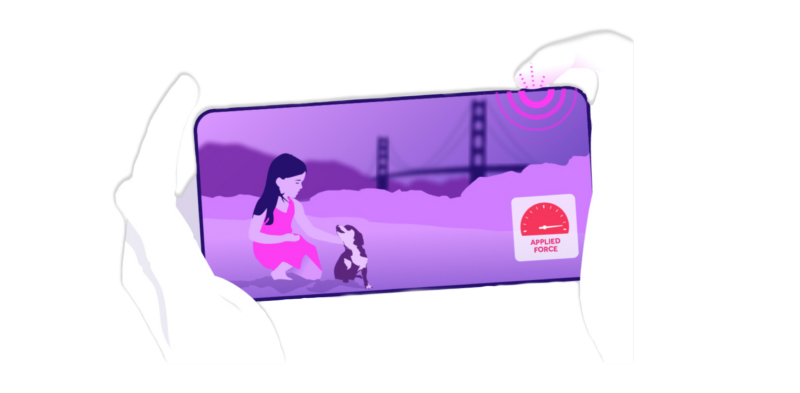 In the interview, Sheng is confident that the CameraBar, which can be programmed specifically by manufacturers and will be placed on the phone where your hands naturally want to rest, will successfully bring a quality zooming feature to smartphones when it will start to roll out in consumer devices early next year.
The entire interview with Sheng is worth a read, as what Sentons has accomplished appears particularly promising for those who desire more functionality in smartphones but don't want the added burden of additional accessories or physical bulk.
(via Digital Trends)
---
Author: Jaron Schneider
Source: Petapixel