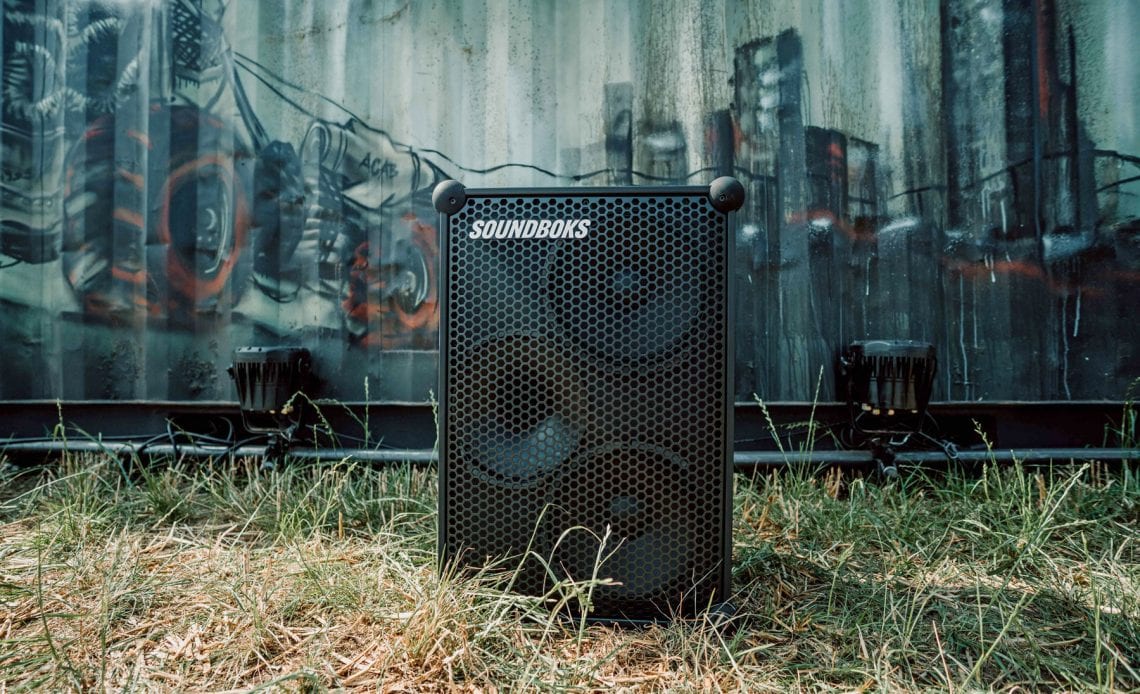 Portable Bluetooth speakers usually come in pint-sized pocketable versions or larger tabletop varieties that can push out decent sound to a group of people. The extra-large versions are rarely talked about or seen in the wild, but like exotic animals, they have a visceral impact by their very nature. The Soundboks speakers fall into the latter category for me. The second edition arrived two years ago, and while it costs a pretty penny, the product was a party-inducing powerhouse. Today, the company has announced its most recent upgrade with the new Soundboks. It's still a premium product, both in materials and price ($999). But as you'd expect, there are a few new features, including wireless daisy chaining for up to five units using the TeamUP function.
First off, this speaker is bound to be very loud, with a punchy bottom end and spacious output. This is facilitated by two 10-inch woofers (96db), a one-inch compression driver tweeter (104db) and a Merus Audio eximo 3 x 72W rms class D amplifier with Advanced Bass digital signal processing. The PCBs have an IP67 rating on their own and the woofers are dip coated to help protect them from the elements and potential party fouls.
All this leaves the 2019 Soundboks with an overall 126db volume rating, which is four decibels louder than the previous model (and that one was loud). According to audio charts, that places it somewhere between a thunderclap and an aircraft take-off from 50 feet away. That may seem like hyperbole, and is difficult to parse in relatable terms, so just think of this portable Bluetooth box as a luggable club speaker. It has enough volume with significant low-end (40Hz up to 20kHz) to help get you into the music beyond just listening.
The company has even added a "Pulse Reflex Port" near the handles, which it states will provide better bass and sound imaging while maintaining resistance to the elements. This opening is shielded by a fine mesh, which should keep grit out and minimize any water ingress, while optimizing audio output.
All that output power needs an equally strong charge to sustain it. There's a swappable LiFePO4 battery pack, which should last up to 40 hours at mid-volume or 5 hours at maximum. If you have an older Soundboks speaker, no worries, as this battery pack (sorry, "Batteryboks") is compatible with all models. It does take three and a half hours to fully recharge that brick though, so keep an eye on the 5-step charge indicator to plan ahead.
As I've mentioned, the Soundboks is portable, but it's heavy. If you're going more than a block with one of these speakers, consider a car, a hand-truck or the backpack accessory if you're up for it. Carrying 34 pounds by hand can become a drag, but it's not entirely untenable.
If you're crafting an ad-hoc portable sound system and have the funds to support that desire, there are plenty of options for wired or wireless connections here. On the back, you'll find two dual ¼ inch / XLR ports, along with a 3.5mm stereo input and 3.5mm stereo output — all weather treated. The speakers support Bluetooth 5.0 with a 120-foot range (I'm assuming best-case scenario).
The real kicker here is the TeamUP function which uses SKAA to pair up to five Soundboks' together wirelessly. Whether you connect to one by cable, Bluetooth or SKAA, that speaker can be set to transmit so four others can wirelessly receive the signal. If you get a SKAA transmitter for your laptop or controller, you could potentially DJ sans the physical connections, freeing you up quite a bit. The company told Engadget any potential delay from this wireless setup shouldn't be more than 40ms and that Soundboks test DJs didn't notice any issues while mixing.
The roadie-style construction and handles make it easy to lug around with little worry about damaging the unit, something the company likes to call "extreme durability." Materials include a high-density plywood box, replaceable steel grill and a powder-coated aluminum frame. This new model also has replaceable silicone ball corners, where the previous were simply aluminum. So I'd assume less chance of scratching floors, a quieter impact when setting it down and yet another way to give the exterior a facelift after it's seen better days.
While I haven't tried this new model, I did test its predecessor the Soundboks 2. It's still high on my wish list of pricey gadgets that I'd love to own, but have trouble rationalizing the expense without explicit applications in mind. There are plenty of lower-cost portable boombox models on Amazon like the Ion Audio Raptor ($237), but their specs and build won't quite match up. JBL offers its own Party Box 300 ($449.95), Sony has the GTKXB90 High Power Audio System ($448) and the Demerbox ($299) is extremely rugged. Those alternatives are likely capable, but have smaller speaker configurations at the very least. If you have the means or can offset it on a business or party budget, the new Soundboks is not likely to disappoint. If you're interested, you can order them directly from the company's website for $999.
Images: Soundboks
---
Author: Jon Turi
Source: GSMArena av, bluetooth speaker, boombox, daisy chain, entertainment, gadgetry, gadgets, gear, home, mobile, music, party, portable sound system, SKAA, Soundboks, Soundboks 2
---