You may have heard of the Japanese phenomenon of "kei cars", which are pint-sized vehicles designed to fit into a local regulatory window that allows for much smaller, lighter cars and trucks to operate legally on roads. For decades, the result of those regulations has helped spawn some of the most interesting and often cutest miniature vehicles in the world. Now, one Japanese automaker plans to bring its own kei car to the US. Meet the PUZZLE from HW ELECTRO.
Less of a kei car and more of a kei van, the PUZZLE builds on much of Japan's tiny car legacy.
The small electric van just celebrated its US unveiling at an event last week signifying the brand's plans to enter the US market. According to HW ELECTRO, commercial sales of the PUZZLE are expected to begin in 2025. In other words, we've got some time to wait.
As President of HW ELECTRO Hsiao Weicheng explained at the unveiling:
"The PUZZLE launch marks HW ELECTRO's dedication to addressing environmental challenges and creating innovative eco-friendly solutions to the commercial vehicle market. We are excited to officially showcase PUZZLE today and we look forward to making it available in the U.S. market in 2025."
This isn't the Japanese company's first rodeo, even if it marks their initial targeting of the US market. HW ELECTRO first entered its domestic market with the ELEMO series, a line of next-generation multi-purpose commercial EVs. The ELEMO series, including ELEMO, ELEMO-K, and the LEMO-L mid-size van, was launched to reduce environmental burdens and enhance disaster resilience in the country.
That focus on disaster resilience is front and center in the PUZZLE electric van as well, which features onboard AC outlets, USB ports, wi-fi internet connectivity, and emergency tools. Roof-mounted solar panels are included to ensure functionality even during prolonged power outages. There's even a first-aid kit and a crowbar, just in case whatever disaster you've encountered can be helped by extra leverage.
Several vehicles in the US already come with AC outlets and first-aid kits, but the PUZZLE's design makes these types of features outward-facing, meaning they can be accessed from outside of the vehicle to help others.
That flat, angular design of the vehicle helps to cut down on design and tooling costs, as well as "makes optimal use of the maximum dimensions within the KEI car vehicle segment, making for an exceptionally large and efficient cargo area. The passenger seat folds down to accommodate especially large items and can double as a side table for the driver," according to the company.
As a two-seater, the PUZZLE is primarily focused on commercial applications, though it'd make a pretty awesome van-life platform with a mattress in back. That might have to be a short mattress though. At just under 3.4 meters long, it's about one salad plate shorter than an already small Fiat 500e.
Compared to the measly 180 liters of storage space in a Fiat 500e though, the PUZZLE looks to win that cargo competition handily. They haven't actually announced quite how much storage room there is in the rear, but it looks like it could fit a disassembled Fiat back there, so it's likely significantly larger than 180 liters.
The rest of the tech specs haven't been hammered out, or at least aren't public yet. Nor is the figure you're all really wondering about: the price.
While we don't know how fast it will go or for how long, we can at least revel in its angular beauty. And perhaps in a couple more years we can finally cruise down an American street in a Japanese kei car, or take one on an electric van life camping trip! Just note that if you go the camping route then you may have to sleep in the fetal position.
Electrek's Take
The vehicle has me already won over. It's great, do it. Press the 'Go' button or whatever. A tiny electric van with huge cargo space, an adorable face, and AC outlets. I love it. I even like the onboard crowbar, for some reason. In addition to the occasional road rage incident, who knows when it could come in handy. I literally used a crowbar to save my neighbor from a stuck elevator in our building yesterday. If I've said it once, I've said it a thousand times. Crowbars. Save. Lives. (I don't think I've said that even once. But my handiwork is still visible in the slight new canting of our building's elevator door!)
The bigger issue to me is the regulatory framework to make this happen in the US. It's possible they could try to do this under existing Low-Speed Vehicle (LSV) regulations, but that would be a shame since it would limit the PUZZLE to a top speed of just 25 mph (40 km/h).
Hopefully, they can make it meet the minimum requirements for a full-size car, though that will do a number on the eventual price tag.
I guess that brings us right back to the same conclusion as always… the US needs EU-style quadricyle laws so that we can have fun mini-cars that still reach mid-level speeds of 40-50 mph (65-80 km/h).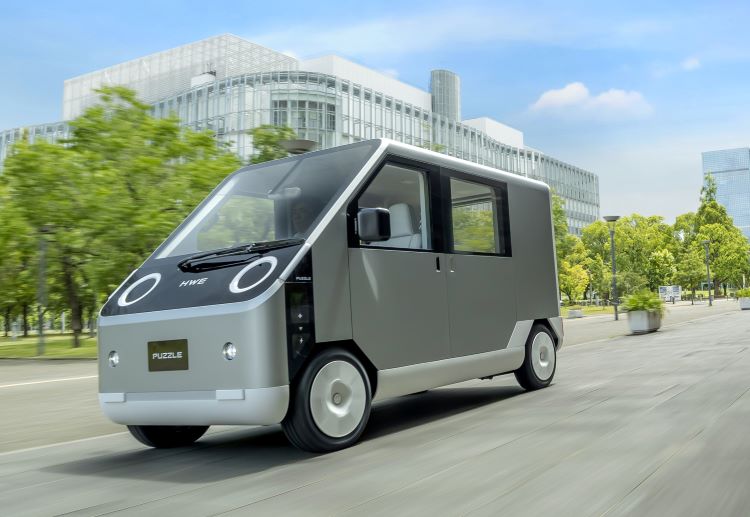 ---
Author: Micah Toll
Source: Electrek