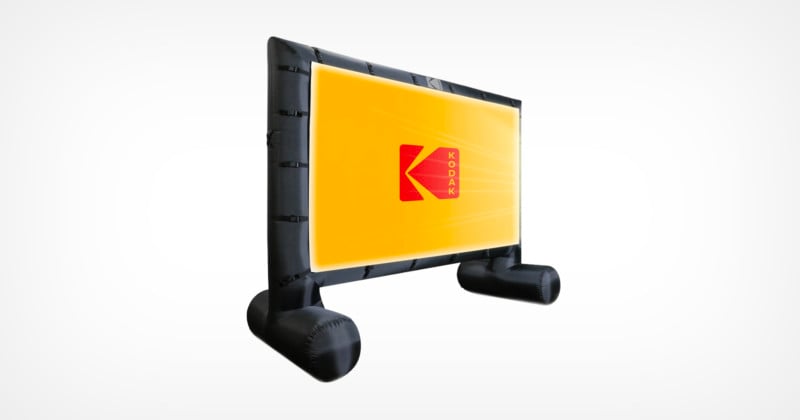 Kodak has introduced a massive 10.3-foot tall, 14.5-foot wide "extra-large" inflatable projector screen that is designed for outdoor use. With this huge display space, it should be easy to share a photo slideshow with your neighbors — or neighborhood.
Described as a "water-resistant behemoth," the Kodak Extra Large Inflatable Screen is supposedly easy to set up, is resistant to tearing, has weighted feet, and is designed to act as the centerpiece to a backyard theater.
While a giant Kodak 10-foot tall inflatable projector screen might seem out of left field on its own, it ties well to this licensee's line of projectors, of which it currently offers eight different options.
That's right: licensee. This isn't actually produced by the Kodak brand consumers are likely familiar with.
The existence of this product serves as a good opportunity to understand how Kodak currently exists in the present market. Even though it was one of the most successful photography brands of its day, it didn't transition well to the digital age and has turned to licensing in order to diversify its income.
The Kodak brand is a lot more segmented than most average consumers likely understand. The Eastman Kodak company, which is still based in Rochester, New York, continues to focus on film, film chemistry, and some software processing while it has also leveraged the power of the brand name through licensing. The company has dramatically expanded the reach of its name into everything from mobile phones and flashlights to inkjet printers, digital cameras, instant print cameras, and camera accessories.
So while the Kodak film cases that were launched last year appear to be linked to the main Kodak company, the same-day photo printing service Kodak Moments is actually owned by Kodak Alaris, which was spun off as a separate company in 2013.
In short, while the Kodak brand name is still quite strong, it is incredibly muddled and disjointed when it comes to actual operations, products, and quality.
That's how a product like the Kodak inflatable screen comes into being. This particular branch of the Kodak brand offers cameras, printers, paper, projectors, scanners, and various photography equipment that all bears the Kodak name, but is actually operated by C&A Marketing which is based out of New Jersey. The company is an authorized licensee of Kodak and attaches the company's storied name to all manner of somewhat related products.
For the average consumer, it's important to recognize that the quality that is associated with the Kodak brand has value, and that value can be bought. In this case, look at consumer reviews of other C&A Marketing products and verify that brand's quality before shelling out the $240 for this enormous inflatable screen.
---
Author: Jaron Schneider
Source: Petapixel