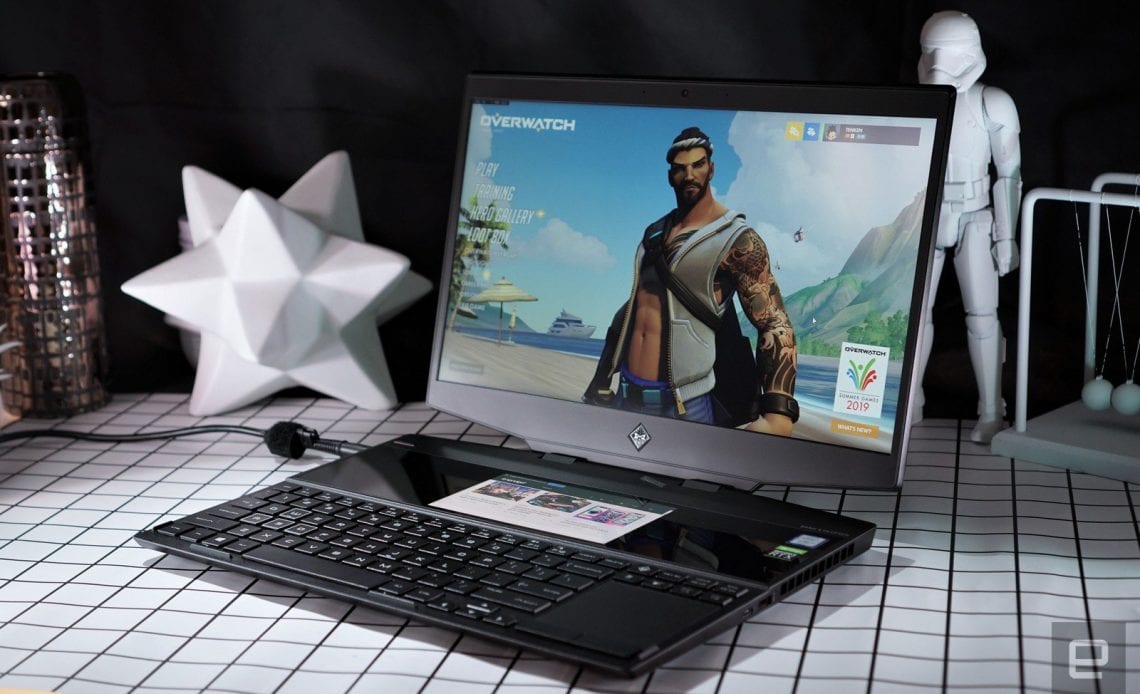 A dual-screen gaming notebook sounds like a smart idea at first — who wouldn't want another display to keep an eye on Twitch streams and Discord chats? But is worth taking a gamble on unproven tech? That's what I've been asking myself as I've tested out HP's Omen X 2S, the company's first notebook with two screens. It certainly looks intriguing at first, but it's clear HP still has plenty of work left to do to make the extra display worth it.
Now let's be clear, I'm not putting down the idea of dual-screen laptops in general. At Computex this year, we saw the ASUS ZenBook Pro Duo and Intel's concept gaming notebooks, which looked unlike anything we've seen before. But those devices all feature large secondary screens, which make them far more useful for multi-tasking. The Omen X 2S has a relatively small six-inch touchscreen display nestled above its keyboard. That really limits how much you can do with it — it's more reminiscent of ASUS's touchscreen Touchpad from last year.
What's surprising is that the Omen X 2S looks like it actually has decent sized secondary screen at first. There's a large glass panel right below the main 15.6-inch display, as if HP was planning to include a much wider screen, but had to settle for something smaller. The result isn't as futuristic as I'd like. Plus it's not the first gaming laptop to include a second display, Razer shoved one into its first Blade notebook in 2011.
That tiny display is exactly what it sounds like: It's just another screen in Windows, so you can drag over anything from the main display. It's ideal for throwing up a Youtube video, or keeping an eye on a group chat, as you work. A button above the touchpad lets you quickly move windows back and forth between the displays, and you can also turn the smaller one into a simple number pad. There aren't any built-in apps like ASUS's ScreenPad, aside from a simple touchscreen calculator, but the simplicity makes it far easier to use.
You can also have the small screen mirror portions of the main display in real-time, which could be useful for strategy games and slower-paced titles. It doesn't really help much in an FPS like Overwatch, though. Most developers spend a lot of time optimizing exactly how their game interfaces are laid out, so that you don't have to take your eyes off the action. Looking down at a completely different screen ended up hurting my performance in Overwatch, even though it was sort of nice to have a zoomed in view of my cool down timers.
The Omen X 2S's tiny screen was more useful for basic multi-tasking than it was for actual gameplay. I appreciated being able to have a Twitch stream playing in the background while I jumped into a long Destiny or Overwatch session. You can interact with the small touchscreen while you're playing a game, but only if you're playing in some sort of windowed mode. If you go fullscreen, the laptop shuts off the touch controls.
The thing is, nothing about the Omen X 2s's small screen feels essential, especially when your phone can do most of the same things. Sure, you can't easily drag over windows, but it's a better interface for navigating through Twitch, Youtube and Discord channels. And if you're annoyed by using a smaller phone display for multitasking, you could just as easily pick up a tablet. Actually, that would be a much smarter investment.
When it comes to actually playing games, the Omen X 2S is a powerful beast. Our review unit featured NVIDIA's RTX 2080 Max-Q GPU and Intel's six-core i7-9750H CPU, and not surprisingly, that hardware was more than enough to make perform well and look great on its 1080p 144Hz G-SYNC screen. In Overwatch, I saw between 90 and 110FPS with Epic settings, while the Hitman 2 benchmark reached 102 FPS with all of the graphics turned up. If you want a bit more speed at the expense of fan noise and extra heat, you can also flip on the "Performance Mode" in HP's software, which netted me 106 FPS in the Hitman 2 benchmark. And for the the smoothest gameplay experience possible, you can opt for a 240Hz 1080p screen for an additional $230, like we're seeing on other gaming laptops this year.
As you'd expect, all of that power generates plenty of heat. I typically saw CPU temperatures of 70 to 80 celsius under load, but during some benchmarks, that skyrocketed to 92 Celsius. That's surprising, since HP used a liquid metal thermal compound on the CPU, which is supposed to help with offloading heat. The GPU, meanwhile, sat between 60 and 72 degrees as I was playing games.
Clearly, the Omen X2S is a solid performer, but it also proves HP is getting better at making attractive gaming laptops. It's only 20 millimeters thick and weighs 5.2 pounds. That's heavier than some of the competition, which are closer to 4.5 pounds, but it's still pretty portable. Its metal case is sleek, even though it's not as refined as something like the Razer Blade. You definitely won't mistake this for a typical PC, though. All of its LED lighting and sharp angles show that it's a gaming notebook through and through.
To fit in its secondary display, HP had to make a few compromises. The Omen X 2S's keyboard is way up front, along with a surprisingly short trackpad. The keyboard feels fantastic for both gaming and typing, but you'll definitely need the bundled wrist rest to avoid cramping your hands. And while the touchpad is smooth and accurate, I wish it was a bit taller for multi-touch gestures. It looks like it was cut short to make room for some extra keys to control the laptop's tiny display. That makes it less useful as a productivity device, but it probably won't matter much if you're always relying on a gaming mouse.
HP also included a wealth of ports, including three USB 3.0 Type A connections, a Thunderbolt USB-C port, Ethernet and a full-sized HDMI connections. As for future upgrades, you can get under the hood to easily replace its SSD and memory. The power adapter also seems thoughtfully designed, with rounded edges and a slim enclosure. You'll want to keep that handy, because the Omen X 2S won't last you very long on battery power. With the secondary display turned on, it only lasted two and a half hours during our test. And with that screen turned off, it got closer to three hours.
The Omen X2S starts at $1,800, but if you want something as fast as our review unit with the RTX 2080, you'll have to shell out $2,850. That's only $50 more than Razer Blade with similar hardware, but that machine is also far sleeker. I will say this, though, compared to some of the other gimmicky gaming laptops we've seen this year, this gimmick is actually kinda useful. Having a second screen is definitely better than the Triton 900's expensive swiveling display, and it costs a lot less than the Alienware Area 51m, which offers desktop-like customizability. But that's really not saying much — unless you absolutely need another screen, you'd likely be better off with any other slim gaming notebook, which will get you better battery life and a lighter machine.
Based on the concepts we're seeing from ASUS and Intel, I'm convinced the future of laptops is dual-screened. We've finally reached the point where juggling multiple displays on your laptop could actually make you more productive. But as usual, it's not a good idea to jump into the first wave of any new technology. The Omen X 2S is an admirable effort from HP, but it feels like the company is still trying to get the hang of things. There's clearly room to fit in a larger and wider display — maybe next year HP can actually figure out how to make that happen.
---
Author: Devindra Hardawar
Source: GSMArena gadgetry, gadgets, gaming, gaming laptops, gear, hp, Omen X 2S, personal computing, personalcomputing, review, RTX 2080 Max-Q
---