According to an interview with then Chief Design Officer Jony Ive, Apple spent 5 years developing the iPhone X. And it was worth the effort since the design it introduced in late 2017 will have been relevant for 5 years before Apple finally does away with the notch (expected to happen in 2022, unless it doesn't – rumors of notchless iPhones have been proven false before).
Ah, yes, the notch, one of the most controversial features ever introduced. In an amazing feat of miniaturization, Apple managed to fit a whole Kinect-like 3D sensor inside a phone. But it committed the ultimate sin of looking bad.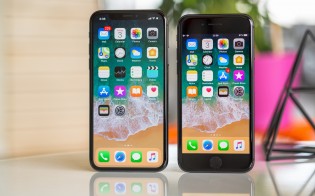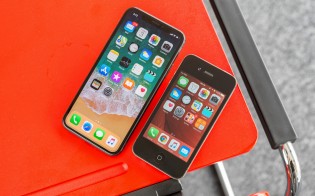 Presenting: the notch, a complicated solution to a difficult problem, one that offends the eye
While Android users were laughing, Android makers were both laughing and making notes on how to copy the features that Face ID enabled. Face unlock is now available on basically all smartphones, in fact it is preferred on the cheaper models since the maker can save money on a fingerprint reader while still offering a biometric unlocking mechanism.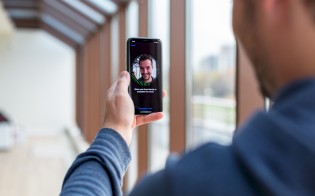 Face ID is easy to set up and easy to use
Also, Animoji somehow became a must-have feature – these 3D avatars that mimic your facial expressions and while fun, we don't see them as all that essential. Look at Oppo's announcement of ColorOS 12, "Omoji" were important enough for their own section.
Of course, the truth is that iPhone X's Face ID was based on structured light and offered a true depth map, while most Android phones just used a camera and ran face recognition. Without the 3D data, those were much easier to fool and thus less secure.
But none of this is new, it happened with the iPhone 7 too. Apple took away the 3.5 mm headphone jack, Android makers made fun of Cupertino, then did the same thing just a year later. It's cheap and easy marketing, but poking fun at what Apple did comes off as disingenuous now. And it happened again after the notch too, it was all "ha-ha, no charger" until Android flagships started arriving with just a cable.
We may have spent too much time talking about the notch, but it's actually a pivotal piece of technology. The ever growing screens meant that bezels had to be cut out and that meant no room for a fingerprint reader on the front.
What to do? Put the reader on the side or the back of the phone? Well, yes, that actually worked really well. Side-mounted readers still show up every now and then and they still work great.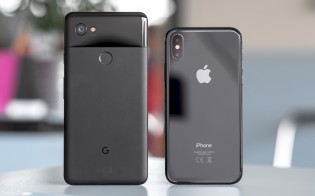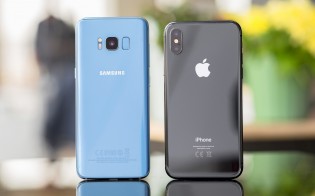 Rear-mounted fingerprint readers solve half the issue and work quite well
But the solution that will become the most common – in-display fingerprint readers – just wasn't ready back in 2017. The first phone to feature this tech was demoed by vivo at CES 2018 (check out how our first encounter with that phone went).
There have been some legitimate criticisms of Face ID over the years. The first was that you need to be looking at the phone to unlock it. This could be disabled, but made the phone less secure. Another issue was uncovered by the pandemic, the system doesn't work well when you are wearing a face mask. For what it's worth, Apple worked out some solutions and fingerprint readers don't work when wearing gloves. Neither solution can cover 100% of use cases by itself.
This isn't the end of it either, the front-facing camera still has to go somewhere. A wild variety of solutions were tried out: notches, punch holes, pop-up and flip-up cameras, rear displays, etc. And yet everyone knows that makers were just biding their time until under display cameras arrive.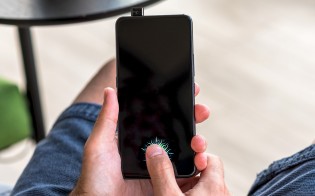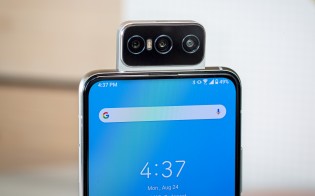 Pop-up camera and under display fingerprint reader • Flip-up camera
And they did arrive last year with the ZTE Axon 20 5G. ZTE launched its second generation system this year, Samsung had its first swing at the problem with the Galaxy Z Fold3. However, while the cameras work as the image quality still leaves a lot to be desired.
Maybe next year we will get phones with both the selfie camera and fingerprint readers under the display. Maybe. But you can see why the notch was so important – it has been four years of crazy developments and the perfect solution for an all-screen front still isn't ready.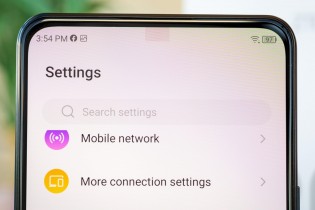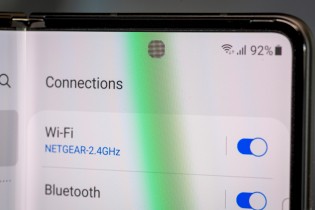 Under display camera technology still needs work
The iPhone X may go down in history as one of Apple's most influential phones ever. Most influential for future iPhones certainly. Whether or not the notch gets retired in 2022, the X set Apple on a path that it is still walking.
This was the first iPhone with an AMOLED display. It started with the X and Apple gradually relegated LCDs to cheaper models. First the iPhone 8 duo, then the XR and 11, now it's just the aging iPhone SE (2020) that uses a liquid crystal display.
5.8" Super Retina OLED display impressed with HDR and Dolby Vision support. And with how slim its bottom bezel was, this was a patented Apple design.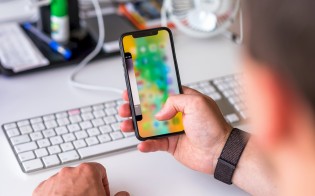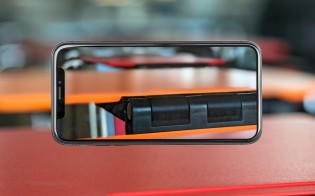 5.8" Super Retina OLED display had a 60 Hz refresh rate but also a 120 Hz touch sampling rate
The display refreshed at 60Hz, as did most phone displays at the time. This is something Apple is still struggling with, reluctant to pay the extra cost of a high refresh rate display (be it in terms of power on LTPS panels or cost on LTPO ones). Next year it will probably go all-in on 120 Hz, but that's of little consolation to iPhone 13 and 13 mini owners.
However, the iPhone X was the first Apple phone to feature high touch sampling rate, 120Hz. The importance of that has not waned, in fact we see other makers advertising higher and higher rates.
The X, along with the iPhone 8 and 8 Plus, was also Apple's first phones to support wireless charging. It was basic 5W Qi wireless charging, but it was a start. A start that brought us to the reimagined MagSafe charging system last year. A system that is already being imitated by Android makers.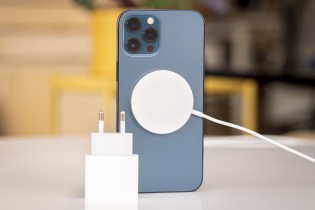 MagSafe charging was the start for something new for Apple – and for some Android makers
Figuring all of this out took time, so the iPhone X arrived later than the 8 and 8 Plus. It was announced alongside them on September 12 2017, but would only come out in early November. And it was the most expensive iPhone ever, starting at $1,000.
It's easy to make fun of Apple and be annoyed by the arrogance it displays during its launch events. And it's rarely the first to do something, heck, the iPhone X isn't even the first phone with a notch!
But there's no denying that Apple is the most influential smartphone maker and its design decisions are quickly adopted by the competition. When it comes to influence, that of the iPhone X is still felt to this day, especially in Apple's own designs.
PS. the "X" in iPhone X is a Roman numeral, so it is pronounced "ten". The iPhone X is the 11th generation iPhone.
Check out the latest Apple iPhones at great prices from Gizmofashion – our recommended retail partner.
---
Author: Peter
Source: GSMArena