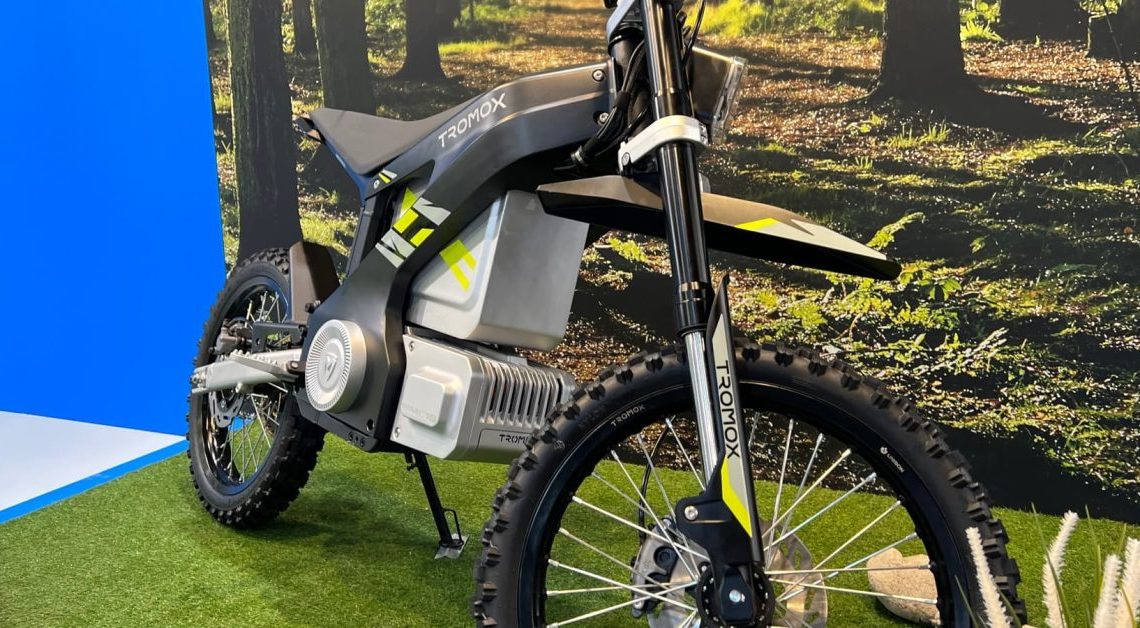 The light electric motorcycle market has expanded far beyond that of the larger and flashier flagship electric sportbikes. While companies like Harley-Davidson, Zero, and Energica battle for market share of the electric equivalent of liter bikes, a dizzying array of companies have rolled out wave after wave of new, lighter electric motorcycles. One of the most interesting on the small-sized end of the market is Tromox. The company's roots may be small, but the new MC10 electric motorbike is now pushing the brand into larger territory than ever before.
You may remember Tromox from the company's extra small electric motorcycles. They started with the Mino, and adorable little urban runabout made to look even smaller by the questionable decision to use a super leggy model for the product images.
That was quickly followed by the Ukko, which went through a few editions to reach an impressive 60+ mph (100+ km/h) top speed.
Now, the company is showing off its production-ready MC10 electric motorcycle, which will come in both a street-legal road version and an offroad-only dirt version.
I had a chance to see both models in person earlier this month at the 2023 EICMA Milan Motorcycle Show, taking a closer look at the company's latest e-motorbikes.
The two share much of the same design, including an 11 kW (14.75 hp) mid-mounted electric motor putting out 320 Nm of chain-driven torque at the 19″ rear wheel.
A top speed of 55.9 mph (90 km/h) is achievable in the highest power mode, and a maximum range of 80.7 miles (130 km) can be reached, though definitely not in the highest power mode. To get that range though, you'll have to opt for the dual battery model that features a pair of 72V 29Ah batteries for a total of 4.2 kWh of capacity. There's a single version that doesn't offer as much power or speed (it's limited to just 43 mph or 70 km/h), but that lower power helps it land a range of 50 miles (80 km) per charge.
The battery (or batteries) can be accessed by flipping up the seat. From there they can be removed for charging remotely, which is useful for riders who park the bike somewhere without access to a charging outlet.
The bike can be started without a key by using either the Tromox app or an NFC chip, and features a rather impressive color LCD display. Bluetooth and 4G connectivity are also included.
The rear suspension uses a 4-pivot system designed by Tromox that " cleverly separates traction, braking, and steering forces based on the principles of kinematics, providing precise steering control and effectively mitigating ground impacts. It delivers an exceptional off-road handling experience with reduced impact forces and enhanced control."
That off-road performance is key since Tromox uses the same platform to create its MC10 TrailX off-road version. The bike seems positioned to compete against other trail bikes and light electric dirt bikes, such as those produced by Sur Ron, Talaria, and other similar entries to the market.
The bikes are already homologated for European standards, though North American homologation preparation is still ongoing. We don't have exact pricing information yet, but the company representatives I spoke to threw out a round €6,000 figure (approximately US $6,500) as a rough estimate.
---
Author: Micah Toll
Source: Electrek